Why are circuits important to understand?
For me, it's about getting messy with building circuits to explore what's possible as well as to understand the decisions that are made with the constraints of the technology in mind. I've certainly been able to explore both of these areas, first by making a simple circuit during Orientation Week, then testing air quality using Circuit Playground Express sensors during Fortnight #2, working on getting a small felt Christmas tree circuit to light up (the focus of the reflections here) as well as building a photoframe that lights up in sync with an audio recording (the focus of my Maker Project).
I've also learned a lot about how easy it is to make mistakes, what it really takes to do hypothesis-based problem-solving with something physical like a circuit and when to ask for help.
Overall, I would characterise my current understanding of circuits as intermediate. It is anticipated that my proficiency will continue to improve over Semester 2 as we build a Cyber Physical System. See Figure 1 for an overview of my progress.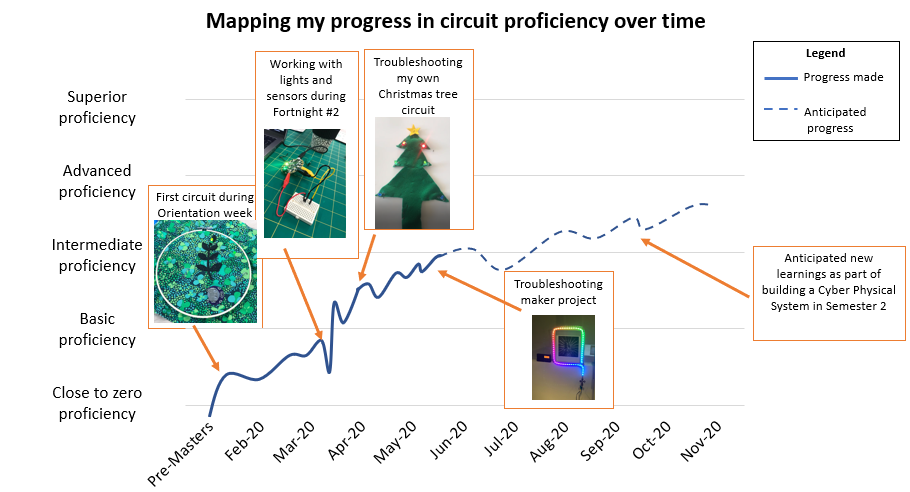 The Christmas tree project
Of all of the learnings in circuits undertaken so far, my self-set Christmas tree project has been one full of ups and downs and is the focus of this post. This is an exercise that happened very early in Semester 1.
What happened?
During orientation week, I had sewed together a Christmas tree circuit made out of felt and LED lights and with a star as a switch. When I finally completed it, the blue lights on the tree didn't light up.
A couple of weeks later, we engaged more deeply in circuits work. Armed with this new knowledge, I set out to fix my Christmas tree.
The story of what happened is contained in the picture book "The Christmas tree who lost his sparkle". I have prepared this story using a new tool for me – a story creation online tool called Book Creator. The book outlines the process of building a circuit, the challenges faced and the troubleshooting that resulted.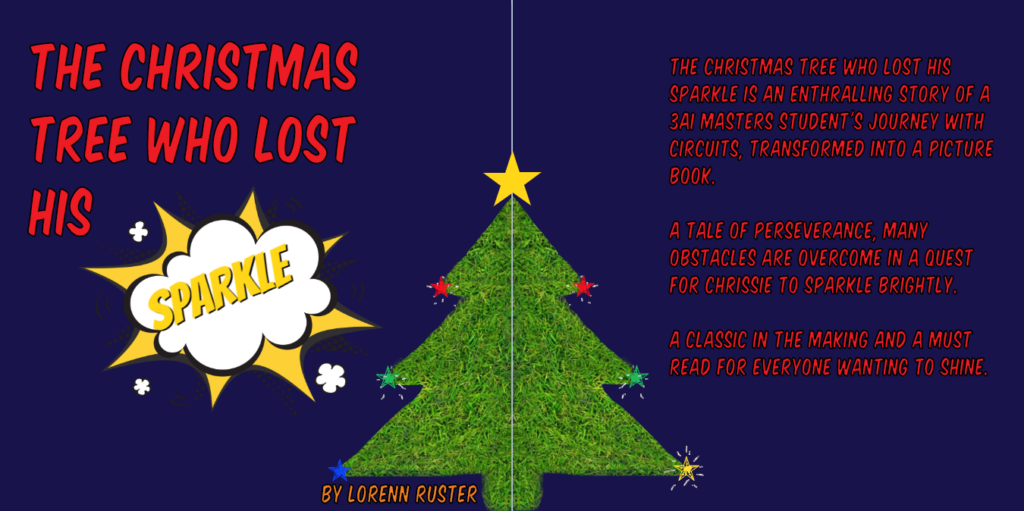 As reflected in my broader goal for the Build Course, I am fascinated with how to communicate with different audiences. This reflection piece serves both as a way of demonstrating my learnings in circuits so far, as well as trialling new ways of narrative building.
I showed a great deal of persistence to get to the bottom of why my Christmas tree didn't fully light up. I undertook several experiments, remade the tree three times, made calculations and did research. I think the problem-solving mindset is a positive. I sought out to soundboard my approach with a member of the cohort, however I think the large amount of time working this through could have been shortcut through more conversations with the Build staff. In addition to perseverance and determination, a lack of attention to detail is also exposed through this story and the implications it can have in terms of thwarting progress. This is certainly something to improve on. Overall, I believe I have a lot more to learn in terms of circuits and look forward to exploring this further as part of my Maker project.
Click on the link below to read the full story in "The Christmas Tree who lost his sparkle".
---
More reflections as part of the Build Learning Portfolio: