A.W. Mullens'plan of the Brewarrina fish traps drawn in 1906 for the NSW Western Lands Board (from Hope and Vines CMP, 1994)
One (orientation) week in to my experience as part of the second-ever Master of Applied Cybernetics cohort at the Australian National University's 3A Institute (3AI), and one thing is already clear: the contextual foundation of this course stems far beyond this century or last and far wider than any one culture.
The tone has already been set that technologies have a long past as well as an uncertain future. They also have a very present reality that we, as part of this experiment to develop a new branch of engineering, are hoping to shape.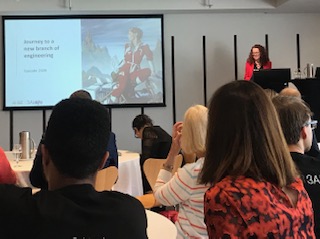 The focus on grounding our orientation in the phenomenal history of Aboriginal Australians was deliberate and refreshing. On Monday, as we were welcomed to the 3A Institute, as well as on Friday when "Episode 2020" for 3AI was more formally launched at the National Portrait Gallery, Prof Genevieve Bell began and ended the week in the same way: the Brewarrina fish traps.
She chose to share a story of a recent trip that she made with her mother (also an esteemed anthropologist). They had travelled to Brewarrina (a regional town in North-West New South Wales) to see Baiaime's Ngunnhu (the Brewarrina fish traps) – a example of a sustainable technological system that has existed for over 1,000 years.
Genevieve remarked on Monday that given Australia's history in developing such systems, it makes sense that the focus of the 3A Institute – to develop a new branch of engineering ​to bring AI-enabled cyber physical systems responsibly and sustainably to scale ​- exists in this physical place. I'd never thought about it like that before. It did make a lot of sense. And it certainly struck me as a demonstration of what recognising and celebrating the world's oldest living culture looks like in practice.
We spent much of that first day being welcomed to Country and visiting significant cultural sites to the Ngunawal people.
It was an important grounding.
Half of the 18-person cohort are from places outside Australia (nearly from every continent). It will be interesting to see how the diversity of cultural perspectives influence our conversations over the next year or so.
More on that later…